Darganfyddwch Dafarn y Goron!
Originally a Welsh drovers inn, the Grade II listed Crown Inn is a traditional pub that sits above the River Alwen in the village of Llanfihangel Glyn Myfyr.
Covid-19 restrictions are gradually lifting. From 26 April 2021, outdoor hospitality can reopen. This means you will be able to visit the outside pub garden terrace at The Crown Inn and enjoy a refreshment.
To open safely, and ensure all our customers are adhering to the government guidelines, our maximum capacity for customers on site is set at 98. This will be reviewed in line with the government review every three weeks. 
1. Opening hours 
Temporary opening times for The Crown will be in place to enable deep clean between shifts. This will be reviewed in line with government three weekly reviews. 
2. Booking
You are invited to use the Crown to meet up outside as a group of up to 6. (The 6 includes anyone over the age of 11) In line with government rules, this must be from no more than 2 households. It is recommended that you book a table in advance by ringing 01490 420209.
3. "Walk in" service
You are welcome to take a chance and join us for a drink during the times listed above, however due to restrictions on numbers and seats available, we cannot guarantee you will get in. If you choose to come this way, please enter the side gate and wait at the board to be seated by a member of staff as soon as one is available. (We strongly recommend you book in advance initially as we expect to be busy)
4. Service 
Regulations require us to provide table service only and therefore there will be no standing room at all. You will be required to remain seated at all times, other than when using the facilities. 
5. Food
Please note we are currently providing a limited menu 
Lunchtimes – We will be offering light lunches such as sandwiches, baguettes, paninis and soup of the day. 
Evenings (available 5.30pm to 8.30pm) – Jacket potatoes, ploughman's or specials (depending on the night).   
6. Face coverings
It is recommended that when on site, where possible, face coverings are used. It is mandatory however, that a mask is worn when entering the building to use the facilities. All staff will be wearing a mask. 
7. Signage
There will be clear signs around the site and in the facilities to remain all our customers of the rules to keep us all safe. Anyone who chooses not to follow these may be asked to leave to protect the health of others. 
8. Information collect
We are required by law to collect information about staff and customers on site in order to mitigate risk of spreading Covid 19.  Upon booking or arrival, you will be asked to provide your name, contact number and we will record the date and time of arrival. This information will be kept confidentially and only used if necessary for track and trace purposes.   
9. Additional measures in place 
The Crown Inn has drawn up a cleaning schedule which ensures that all areas of the site will be cleaned and sanitised for use. Particular attention will be given to high traffic areas and high touch areas.   
During closed periods, all areas will have a deep clean and restocking of sanitising equipment will take place. 
The Wild Campsite is the Jewel in our Crown
To top it all off, along the River Alwen, we have a quaint campsite – one of the best kept secrets of North Wales. Our campsite is for those who wish to get back to nature and really enjoy old-school wild camping, with a river and an ancient forest and real campfires.
Friday Night is Curry Night at the Crown!
The curry of the week is advertised on our Facebook page and in the pub.
Each week, we prepare a different popular homemade curry for our visitors and the local community.
Whether it is a Lamb Dansak or a Chicken Masala, a Vegetarian Korma or a Rogan Josh, you can be confident that it is all prepared in-house with the very best, locally-sourced ingredients.
To ensure the full experience your curry comes with:
Poppadom
Naan Bread
Pilau Rice
Pepsi Cola Max – 330ml can
Orange Tango – 330ml can
1. Call The Crown: 01490 420209.
2. Place your order for your Friday Curry and choose your time slot.
3. Pick up your Curry from The Crown Inn at your given time slot
4. Enjoy Curry
1. Book a table at The Crown: 01490 420209.
2. Turn up, do the track and trace scan.
3. Order your drinks
4. Enjoy yourself eating a curry at The Crown
Ewch i food.gov.uk/ratings i ganfod sgôr hylendid bwyd ein busnes neu gofynnwch inni beth yw ein sgôr hylendid bwyd wrth archebu. Go to food.gov.uk/ratings to find out the food hygiene rating of our business or ask us for our food hygiene rating when you order.
Walking with The Crown Alpacas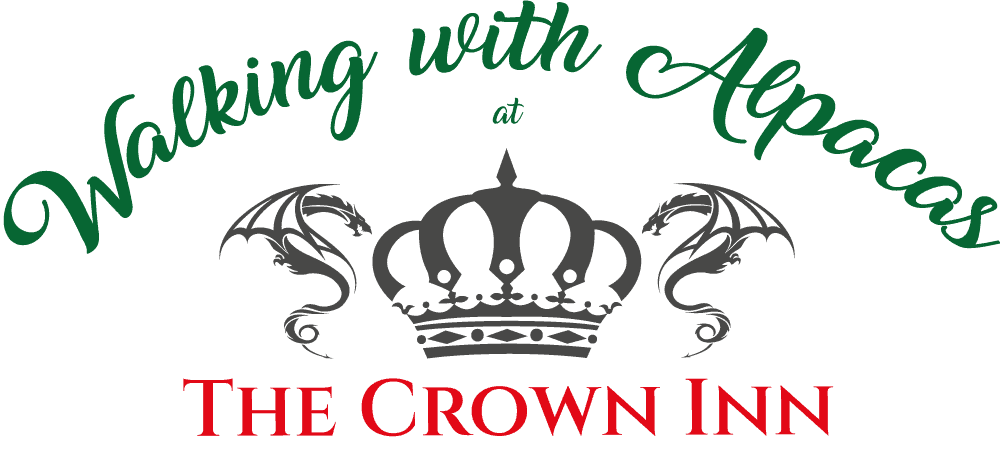 Come and meet the new arrivals!
'Walking with Alpacas' is a great activity for adults and children alike. Experience our friendly alpacas by taking the lead on a leisurely stroll on our little 'Alpaca Island' which is nestled right next to the River Alwen.
Plenty of opportunities to add photos and videos to your Insta and Facebook feed as well as the chance to learn about these fascinating South America creatures.
Don't forget, there is a pub for food and refreshments and if you want to stay longer we have a small will camping site too.
For more information about this amazing experience and how to book, please contact Rich or Caroline at The Crown Inn on 01490 420290